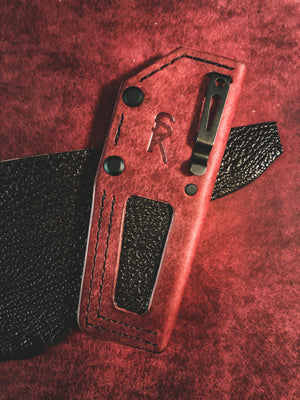 SPK Group Shark Pocket Sheath w/ Shark Inlay
Adding a very fitting new twist on the pocket sheath for the SPK Shark by adding a Shark Skin Inlay into the face of the sheath.
The Optional Belt Loops are also being updated to a thicker 7 oz leather that will have beveled and burnished edges for a more durable carry option. Loops have multiple hole positions for you to adjust your desired tightness against your belt. Loops will also come with extra screws to accommodate the thicker leather. The Color of the Loops will match your selected color for the Welt of the sheath.